Summer Activities at Pokonobe in Mammoth Lakes
Mammoth Lakes Unique Activities
Pokonobe Lodge
With summer upon us, it is kind of fun to think about some of the options that you don't always think about when it comes to creating special memories with your family and friends in Mammoth Lakes and the Eastern Sierra.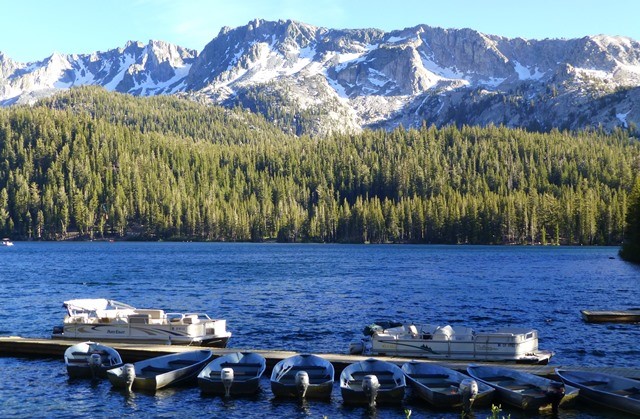 Wilderness Catering owners, Marci & Chuck Satterfield, cater dinners, weddings and music concerts at the Pokonobe Lodge, which is on Lake Mary. For something a bit different with a beautiful view overlooking Lake Mary, an inside dining room and a sunny deck, consider catering your own party. Marci provides delicious food and will work with you on your menu.
I grew up camping at Lake Mary and have a special spot in my heart for it. We actually held my Mom's memorial at the Pokonobe Lodge 5 years ago. Wilderness Catering, Marci and Chuck, did a terrific job of catering it for us. If you have an event you would like to plan with a location that is unique, please give Marci a call at 760 934-6061 or send her an email at marci.satterfield@yahoo.com.
Be sure to catch one of the Li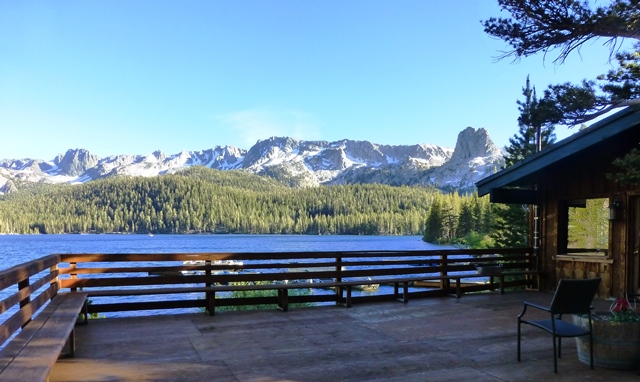 ve Dinner Concerts with Fiddlin' Pete July 7, July 21 and August 11th. For reservations call Pete at 760 873-4616. The String Theory will perform June 30, August 4th, August 18th and September 1st. For reservations for this call Charles 760 258-6026.

In the winter, Wilderness Catering also hosts full moon dinners at the Pokonobe Lodge. You can cross country ski, walk, or take their special Snowmobile rides. These dinners will make an indelible mark in your memory!
Kittredge Sports provides all the fishing tackle, boats and paddle boards. So why not spend the whole day up at the Pokonobe Lodge, take advantage of the lake, fishing, pontoon boats, paddle boards, canoes, kayaks, and even a small grocery store. They have a daily fee to launch your own boat. It is also a great spot to see the Eagles soar.
With the bike path from the Town that takes you all the way to Horseshoe Lake, the Lakes Basin is much more friendly and accessible without driving. You can take the shuttle, load your bikes, ride around the Lakes basin and then ride your bikes back to town, so that you don't get all worn out just getting up there.
Interest rates may be on the way up and prices seem to have bottomed out. I would encourage you to get into the Mammoth real estate market so that you can start enjoying those special times with your family now. Memories are priceless!
My favorite book, the Bible says:
Isaiah 41:30-31 "Even youths grow tired and weary, and young men stumble and fall; but those who hope in the Lord will renew their strength. They will soar on wings like eagles; they will run and not grow weary, they will walk and not be faint."
The new Welcome sign as you arrive in Mammoth says "The Mountains are Calling" and as you depart, "Going to the Mountains is going home. " John Muir