Mammoth Community - It's All About the People
A community is really all about the people that live there, not just the real estate.
Jane Anderson Baer is all about community as she works to provide recreational projects for
kids in Mammoth Lakes. The Brother's Skate Park completed in 2007 and The Little Brothers Park addition finished this summer fulfills the dream of her son Jeff for a world class skate park in Mammoth Lakes.

It all started in 1985 when Jeffrey Anderson was 8 and Billy Anderson was 10. The young boys went in front of the Mammoth Lakes Town Council with 250 signatures of support and a dream of a skate park. The members of the Town Council thought the petition and project showed an admirable effort and praised their work, but their answer was "no".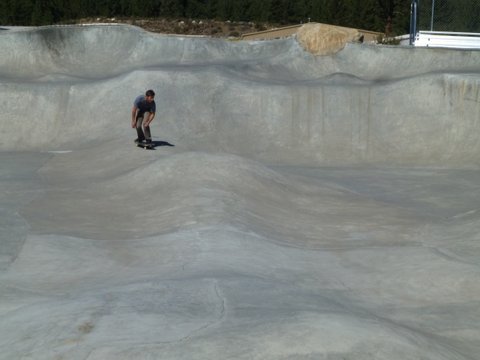 10 years later, when Jeffrey was 18, a group of young people began working for the skate park at Shady Rest Park. The Town gave permission for a skate park, but Jeffrey's vision and the Town's vision were completely different. When the skate park at Shady Rest was built, it was a small park with obstacles less than 3 feet. Jeff's vision for a world class skate park was still not fulfilled.
In 2003, Jeffrey passed while on the snowboard tour in Japan. There was a Memorial held in Jeffrey's honor at Mammoth Mountain and people wanted to donate to something that would leave a lasting legacy to honor their friend and brother. Jane immediately knew what Jeff wanted most was a world class skate board park in his home town. She went to work on the realization of Jeffrey's dream. Generations to come will benefit from his vision and Jane's hard work.
Jane said that when she first moved to Mammoth in 1974 she fell in love with the town's spirit. A strong sense of community, the number of people that volunteered to help one another, and great importance of these projects to a small community impressed Jane. In the first year the high school was finished with a donated gym, the ground work was being laid for a hospital, and the volunteer fire department was supplying a new rescue truck.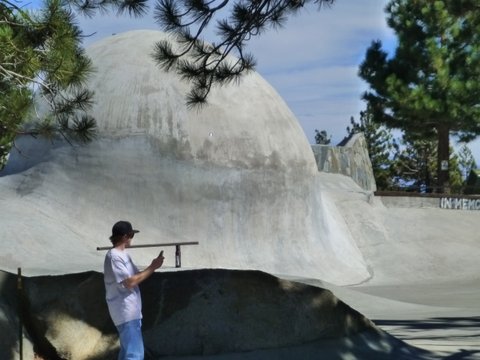 That local community sprit came alive with the support of the action sports industry to raise the funds to build a world class skate park. Burton Global Team, Quicksilver, Billabong, Oakley, Red Bull, Anon, Grenade, Analog, the U.S. Snowboard team, Mammoth Mountain, and Volcom, worked with local businesses like Roberto's, Burgers, Slocum's, Wave Rave, Footloose, to get the job done. All you have to do is walk through the amazing Skate Board Park Pavers to see all the others that have donated to make this project happen.
The first phase of the Skateboard Park was 42,000 square feet. (Most skate parks are 15,000 to 20,000 square feet.) Skaters began looking at various locations and with the support of Trails End Homeowners and Tony Barrett the park ended up on Town Property. Much of this project was done on a hand shake, which is an amazing feat in and of itself. The contractor, Grind Line, finished the project with volunteer labor and the support of local businesses such as Mammoth Mountain, Marzano and Sons, Wave Rave, and the Water District.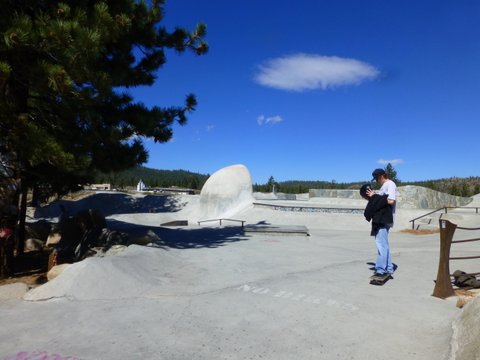 After 3 years of looking for the right property, designing the park, completing the fundraising, and hiring the contractor, Jeffrey's dream began to become a reality. As the project came to an end, Jane realized that she was $50,000 short. She was prepared to borrow the money to complete the project. When Dave McCoy heard about the short fall, he came to her rescue. At the annual Foundation fundraiser, Dave McCoy stood up and shared that the Skate Park was $50,000 shy of being completed and within 3 minutes there were enough donations to complete the project. This last $50,000 was raised through the generosity of individuals that still live and support Mammoth.
The Brothers Skate Park broke ground in 2006, and was completed as the snow beganto fall on November 1. On November 2, 2007, the project was turned over to the Town of Mammoth Lakes for $1.00. Recently, Phase II of the skate park was completed. Adjacent to the main park, the additional 5,000 feet has small obstacles for beginner skaters. Little Brothers was started in August and turned over to the Town of Mammoth Lakes on September 13th. This project was completed in 4 weeks from the concept design to completion with the dedicated effort of Dawn True, Brian Sizer, Peter Bernasconi, and Mike Lary.
Once again, the individuals and volunteers were what made it happen. Mammoth Mountain with Rusty's blessing donated 5 pieces of heavy equipment, 2 dump trucks, and with Clifford Mann overseeing the project got things moving. Kyle Gallagher, was involved in the first Phase of the park, was back as the projects contractor. Brent Allen was able to provide some welding without advanced notice and Pete Del Giudice made the three metal drain covers. John Eastman and Marc Wolters and their crews laid all the pavers. The project was completed for about half of what it should have cost because of all the volunteers and community support.
During the first project Jane was about to give up. Dave McCoy encouraged her by saying, "If it was easy, anyone can do it." This was all Jane needed to hear to get her back on track.
After visiting with Jane, I found out that she has been involved in many of our community projects that have been a huge benefit to our Town. She brought the first swings to the Community Park on Forest Trail. She was able to raise funds for the books for the Mammoth Elementary and Middle School libraries by selling hot dogs and grant writing. She served on the Parks & Rec commission from 1986-1994 and helped with the development of Shady Rest Park and the Trail System that is still being worked on to this day. Jane was on the first swim team board, coached soccer, and T-ball.
My congratulations and appreciation to Jane Anderson Baer and her many years of service to our Town to make it a better community.
Next time you drive by or enjoy the Skate Park, I hope you appreciate the story behind it.
Jeffrey Lin Anderson's dream has become a reality. November 2, 1979 - February 23, 2003